GameFi is a combination of NFTS (non fungible token) online game developed on blockchain technology and decentralized finance (DeFi). SQF with outstanding highlights beats the challenges of the GameFi Marketplace.
GameFi Market
According to Newzoo's 2021 global game market report, the number of global gamers has now exceeded 3 billion. In the same year, total global gaming revenue grew 1.4% year-over-year to and is now at around $18.03 billion. In which, 52% of the sales market share comes from games for mobile devices. Gaming today is no longer just an ordinary pastime. Instead, it combined with the advent of blockchain technology to create new models with the common name GameFi.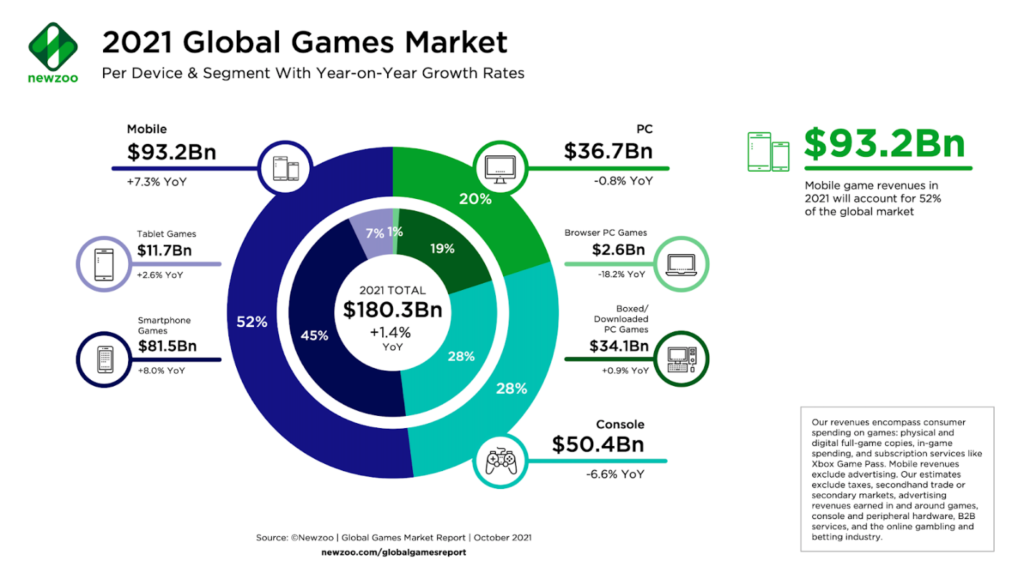 Making money from video games is not new. The purchases and sales of items in CS: GO, Dota2 through the Steam Market have been going on for many years.
However, on the old platform, crooks can still take advantage of security holes to cheat and appropriate in-game items of users. Blockchain technology and NFTS give developers tools to increase transparency and game security.

After the success of Axie Infinity, many other blockchain-based games are continuously announced. CoinMarketCap's NFTs portfolio has the majority of tokens coming from GameFi projects. According to this list, there are currently more than 300 tokens of blockchain games listed on the cryptocurrency exchange.

Decentraland, Axie Infinity, Gala, The Sandbox, Enjin are large projects, with market capitalization exceeding 3 billion USD. Thetan Arena, a new game by the team from Vietnam, was just launched in September, but has reached a market capitalization of more than 500 million USD.

Blockchain games are currently being developed in many different genres such as card games, turn-based games, strategy, sports, shooting… Different from media games GameFi creates a transparent playing field, attractive and extremely attractive both in terms of profit and entertainment.
Introducing the SQF Game project
Sancti Quest on Frontline – SQF is a GameFi project developed on the Binance Smart Chain (BSC) platform, with a different economic structure from most existing GameFi projects on BSC. The most special thing is the mission to bring the game back to its true nature.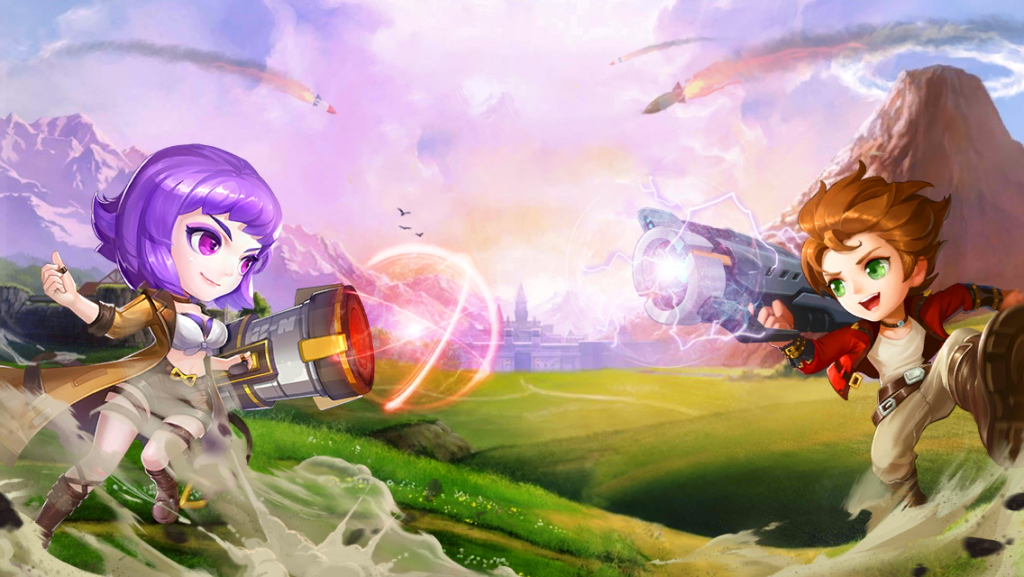 Whether it is a casual game or a GameFi, the most important aspect is still the enjoyment and entertainment for the players. Of course, players can earn money the way they can in other games. Sancti Quest on Frontline is supposed to usher in a new era for both the GameFi and Crypto markets.
As of February 2022, GameFi's total market capitalization has grown to $55.38 billion. By 2025, blockchain games are predicted to be worth $50 billion, growing ten times faster than traditional games. The blockchain game environment is evolving rapidly. GameFi is one of the most trending topics in crypto right now, with new developments being seen at an increasingly fast pace thanks to the promising gameplay and economic dynamics that come with it.
Along with the extremely rapid growth of the GameFi market in recent years, many players have made a lot of money playing games, and therefore other games are also released more and more frequently. But the quality of the game doesn't go hand in hand with the quantity. Players only care about making money, and publishers only care about making games as fast as possible. As a result, unsustainable "Click to Earn" games sprang up in droves, destroying the confidence of the gaming community.
The main attraction of the game is In-Game Economy
The market of virtual currency, digital currency, cryptocurrency is increasingly attractive, attracting more and more investors because of its long history, with NFTs technology being very popular among users. Plus the unique combination from Game, although it has been around for many years, it is really perfected and has not brought a revolutionary wave in the Blockchain platform.
Now, with a professional, creative and experienced team, SQF is confident to create an interesting playground and bring worthy values to investors. Sancti Quest on Frontline is a turn-based strategy game with fighting techniques. On the battlefield, warriors fight alongside other opponents or legendary monsters to protect the peace of their world.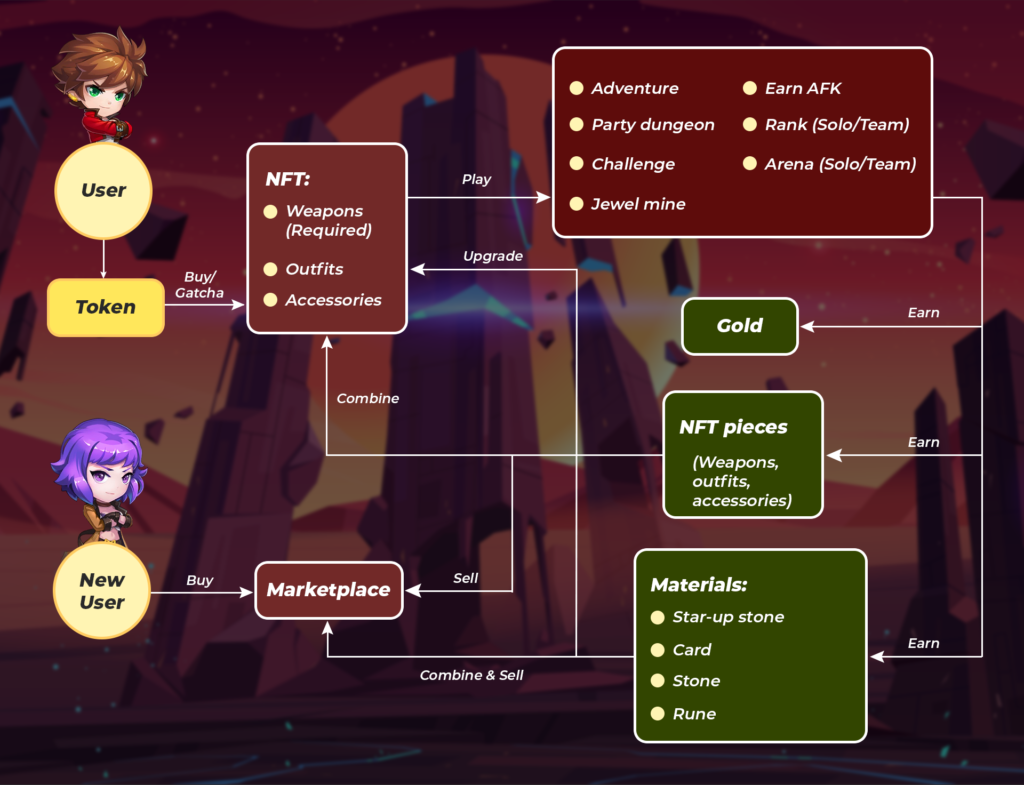 Multiple game modes
SQF not only possesses the basic mode that a fighting shooter must have, but also has PVE (player-versus-environment) and PVP (player-versus-player) modes. In Sancti Quest on Frontline, there are many other attractive modes that no other game has, developed by a professional game team. It can be said that the form of betting with opponents to compete with each other is the most attractive. Build a house for warriors, or a marriage mode for couples to get special moves when fighting together.
With three special game mechanics, players can experience all the battlefields and different levels of conquering emotions. It's adventure, it's the most basic mode of Sancti Quest on Frontline, in which players battle monsters in various lands, learn more about the legend of Skyland, and possibly own treasures from that land.
More advanced is the Treasure Base mode that requires you to have a team with special combat abilities to have a chance to pass each level. In return, the rewards in this mode are extremely attractive; They are all legendary treasures guarded by monsters. And finally to attract the competitiveness and fighting spirit of players is ranked mode, and also the most attractive mode for players, in any game, players want to reach the top of ratings.
Limited NFTs
Entering any adventure requires acquiring the necessary equipment to deal with the difficulties and challenges on the way to conquering the game. With a diverse, eye-catching and powerful equipment warehouse. If you're lucky, you can get legendary treasures with ultimate power.
Limited NFTs: Weapons, outfits, accessories, and pet items add variety and increase the rarity of the game.
These types of NFTs are limited in the number of ways in which players store value as they level up daily. NFTs can be exchanged, bought or sold on the NFTs exchange.
Limited edition NFTs defined by 4 different rarity:
• popularity
• rarity
• Historical and legendary.
The rarer the weapon, the higher your score will be, including: Weapons, Costumes, Accessories and Pets.
Consumable Items
Consumable NFTs: includes enhancement stones, upgrade materials, and other items. This enables us to contribute to the fight against inflation
Token Release Schedule
| | | | |
| --- | --- | --- | --- |
| Allocation | Vesting | Percent | Total Supply |
| Team | Unlock after 48 months | 10% | 33,333,333,333.3 |
| Seed Round | Unlock 3% on purchase. Unlock 15% at TGE. Pay linearly for the next 7 months. | 1% | 3,333,333,333.33 |
| Private Sale | 10% unlock TGE, 2% at 2nd month, pay linearly over next 8 months | 3% | 9,999,999,999.99 |
| Pre-Sale | 20% unlock TGE, 5% at 2nd month, pay linearly for next 6 months | 6% | 19,999,999,999.98 |
| Public Sale | 20% unlock TGE, pay 20% at 2nd month, pay linearly for next 4 months. | 12% | 39,999,999,999.96 |
| Partner & Advisor | 6% TGE, pay linearly for next 10 months. | 10% | 33,333,333,333.3 |
| Marketing | Unlock 10%, of which 5% Ref reward. Unlock 10% at TGE. Pay linearly next 10 months | 27.2% | 90,666,666,666 |
| Ecosystem Growth | Unlock after 12 months | 20% | 66,666,666,666.6 |
| Reserve | 15% unlock at TGE, 12 month linear unlock | 10% | 33,333,333,333.3 |
| Liquidity | | 0.8% | 2,666,666,666 |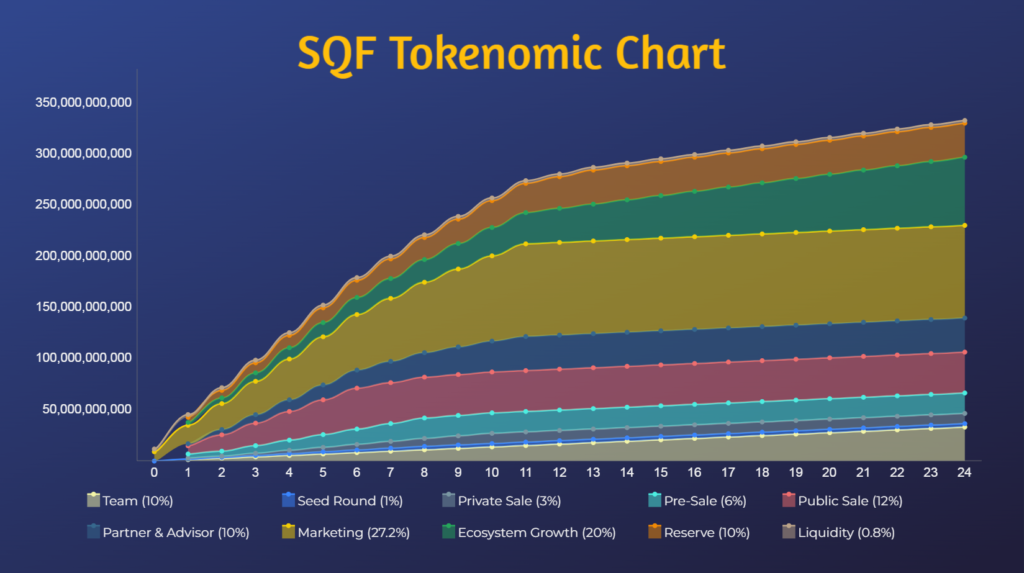 With a spread token payment period, stable token price is also a factor that creates a fair and transparent competitive playing field for investors – Gamer.
During this period, there have been many new and better quality projects with many solutions to solve existing problems, but in order to attract attention in today's market, a potential project must ensure many factors in terms of price, development progress, transparency and especially superior features. SQF with a professional team fully believes in meeting the above characteristics to create a professional ecosystem for players.
Follow us on official social media to see the latest information about the project.
Website | Facebook | Announcement | Twitter | Youtube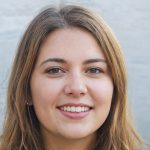 I'm a highly experienced and successful crypto author with a proven track record in the industry. I have worked with some of the biggest names in the space and have been involved in many groundbreaking projects. I am a thought leader and an innovator, always looking for new ways to add value to the ecosystem. I am passionate about educating others, and I believe that blockchain technology has the potential to change the world for the better. If you're looking for someone who can help you navigate this exciting new world, then I'm your perfect partner.